Align vision, effort, and people to drive impact and growth
STRATEGIC ALIGNMENT & EXECUTION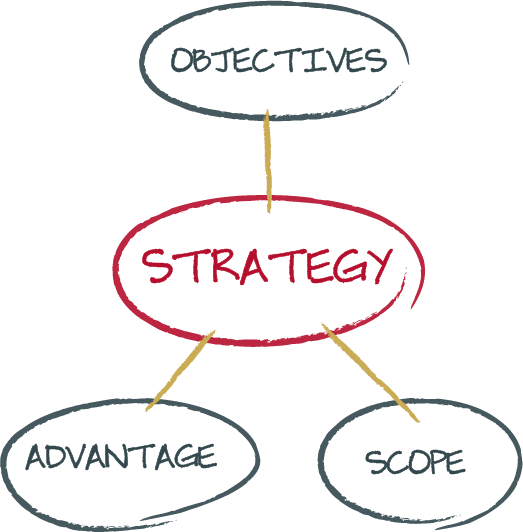 Few organizations implement their strategy or their strategic plan efficiently. We facilitate a strategic alignment process that gets all critical stakeholders on the same page and ready to coherently implement strategic vision from a shared playbook.  
We rarely find that all senior leaders or decision-makers are able to succinctly state what their strategy is, what it means, and which priorities and boundaries follow. Rather, small misalignments or ambiguities lead to miscommunication and make subsequent decision-making inefficient or unnecessarily tense.
While the nitty-gritty of managing a strategic planning process can be its own challenge, the trouble often starts when leadership teams can't consistently communicate their strategy. Often, there is a general sense of key strategy elements or what the strategic plan says. But concrete narratives among stakeholders and their felt priorities differ in important ways. Consequently, subsequent decision-makers are left with ambiguities and cross-functional implementation that lacks coordination and coherence.
Why Strategic Execution Fails
Our series of strategic alignment workshops directly responds to what leaders describe as the key reasons for strategic execution failure in their organizations:
Source: Booz & Co, Strategic Coherence Profiler Survey
We offer a systematic process that ensures all key decision-makers:
A strategic planning / strategic alignment process is as much an intellectual exercise as it is a process of social coordination. To this end, we lead a series of workshops - conducted either in-person, via Mural, or as a hybrid process. Without a shared framework and a disciplined way to track the group's inputs, reasoning, and outputs, it's nearly impossible to come to a shared understanding and be able to consistently and convincingly communicate strategy to everyone else in the organization.
Ensure everyone understands and describes strategy the same way
Decide on key priorities and strategic bold moves to support them
Ensure each bold move is backed up with a proper "game plan"
Some of our favorite tools for turning strategy conversations into action planning are provided by
The Grove Consultants International
. You can purchase posters, facilitation guides, or image files of the entire
Grove Strategic Visioning toolkit
at their online store.
LET'S CO-CREATE YOUR SUCCESS
START AN EXPLORATORY CONVERSATION TODAY